President's Message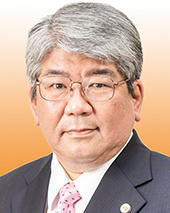 President,
Tokyo Bar Association
Kazuhiko Ii
"A judicial system for the people, together with the people!"
I believe that, while the COVID-19 pandemic continues to persist, the people of Tokyo are spending each day with a sense of uncertainty. In times like these, we will prepare so that when legal problems occur, lawyers are available to respond anytime and anywhere, while also considering the provision of arrangements such as online consultations.
Also, the introduction of IT into legal proceedings such as the courts is progressing. Although we can expect such measures to expedite and reduce the cost of legal proceedings, we as a bar association are also considering our response to ensure that the courts do not become harder for the people to access.
We continue to see the violation of human rights through "force" around the world, such as Russia's invasion of Ukraine, the military coup d'état in Myanmar, and the suppression of those seeking the protection of human rights in Hong Kong. The most extreme violation of human rights through "force" is war. In Japan too, there have been arguments recently that are made in the name of defense and national security, and which argue in favor of increasing military force, including nuclear weapons, and the constitutional revisions to enable it. But will resisting "force" with "even stronger force" truly lead to peace? I believe we need to reaffirm the principles of democratic sovereignty, protection of fundamental human rights and enduring peace that are in our constitution and consider such arguments together with the people in a calm and careful manner.
The violation of human rights also exists close to us. Hate speech towards non-citizen residents, discrimination against women, and prejudice and discrimination against gender diverse (LGBTQ) people are unacceptable. Also, while vaccination is an important factor to prevent the spread of COVID-19, people who are unable to be vaccinated for a variety of reasons should not face unreasonable discrimination.
As president of the Tokyo Bar Association, my goal is to think about and act towards peace and human rights, together with the people.
Kazuhiko Ii
President,
Tokyo Bar Association