President's Message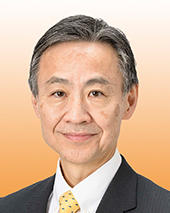 President,
Tokyo Bar Association
Kimitoshi Yabuki
"Toben, now and On; Steady and Aggressive!"
Our Tokyo Bar Association,as occasionally and unofficially called 'TOBEN', now counts almost 9000 member attorneys, the largest in number among 52 regional bar associations across this country. As its president for 2021, I am facing various problems from the past and having many dreams for the future. My tenure is limited but I hope to see all these dreams come true someday not far from now and I will be delighted to devote myself to this end.
First of all, needless to say, TOBEN is not a private nor voluntary entity, but it functions as provided by laws, while protecting liberty and human rights and upholding the social systems for ubiquitous justice. In order to implement to attain these ultimate objectives, we are facilitating and emphasizing among other things the following activities.
*Continuing legal and ethical education.
*Coordination and familiarization with the changing process and proceedings of judicial system adopting ICT(Information and Communication Technology) for supporting SDGs (Sustainable Development Goals)and for the justice and common welfare.
*All possible empathetic actions against societal glass ceiling and other various harassment,as well as against prejudices toward gender gap, ethnic races, weaker minorities and so on.
We, Toben, also provide the civil society with various legal services. We assist operation of three public defenders' offices which render access to justice programs which are necessary even in the metropolitan area, and manage legal consultation centers in several locations in Tokyo. Poverty and legal aid are the top priorities which we have tackled.
Globally, we, Toben, is one of the founding members of the World City Bar Leaders Conference and participated in such conference every year. We also enter into friendship memoranda with 7 bar associations (Chicago, Paris, Hon Kong, etc.). Our members are very much enthusiastic to collaborate with other bars and law societies outside Japan.
Independence of lawyers is our most crucial mission. The Practicing Attorneys Act provides autonomy of lawyers in order to protect independence of lawyers, but, without our dedication to preservice this value, it could be endangered. We, therefore, have worked with the civil society which is the defender of this value.
Since early last year, our services have been restricted due to the COVID-19 pandemic, but we, Toben, have made our best efforts to continue the services for the benefit of our members and citizens in the brief that the rule of law even under such pandemic is our most crucial mission as lawyers.
I am very much looking forward to working for our members, citizens in Japan as well as our colleagues in the world.
Sincerely yours,
Kimitoshi Yabuki
President,
Tokyo Bar Association